Feeling slightly out of place in a room packed with older men with ponytails each wearing Genesis T-shirts whose designs spanned years of touring, but feeling confident in my knowledge and love for 1970's rock and roll I entered the Lyric Theatre hopeful that I might learn a thing or two about music.
The Musical Box act certainly delivered. I totally forgot that this was a tribute show I was watching, a loving re-enactment of an era with psychedelic visuals and five musicians who never missed a note or beat in a set spanning two hours.
The set from Selling England By The Pound (1973) was from the Peter Gabriel era of Genesis and of course the theatrics of the show pivots around his eccentricity and characters that were created for the songs.
The show opened strong with Watcher of the Skies complete with front man dressed in a rainbow cape, shaved temples, neon face paint and the iconic bat wings headpiece.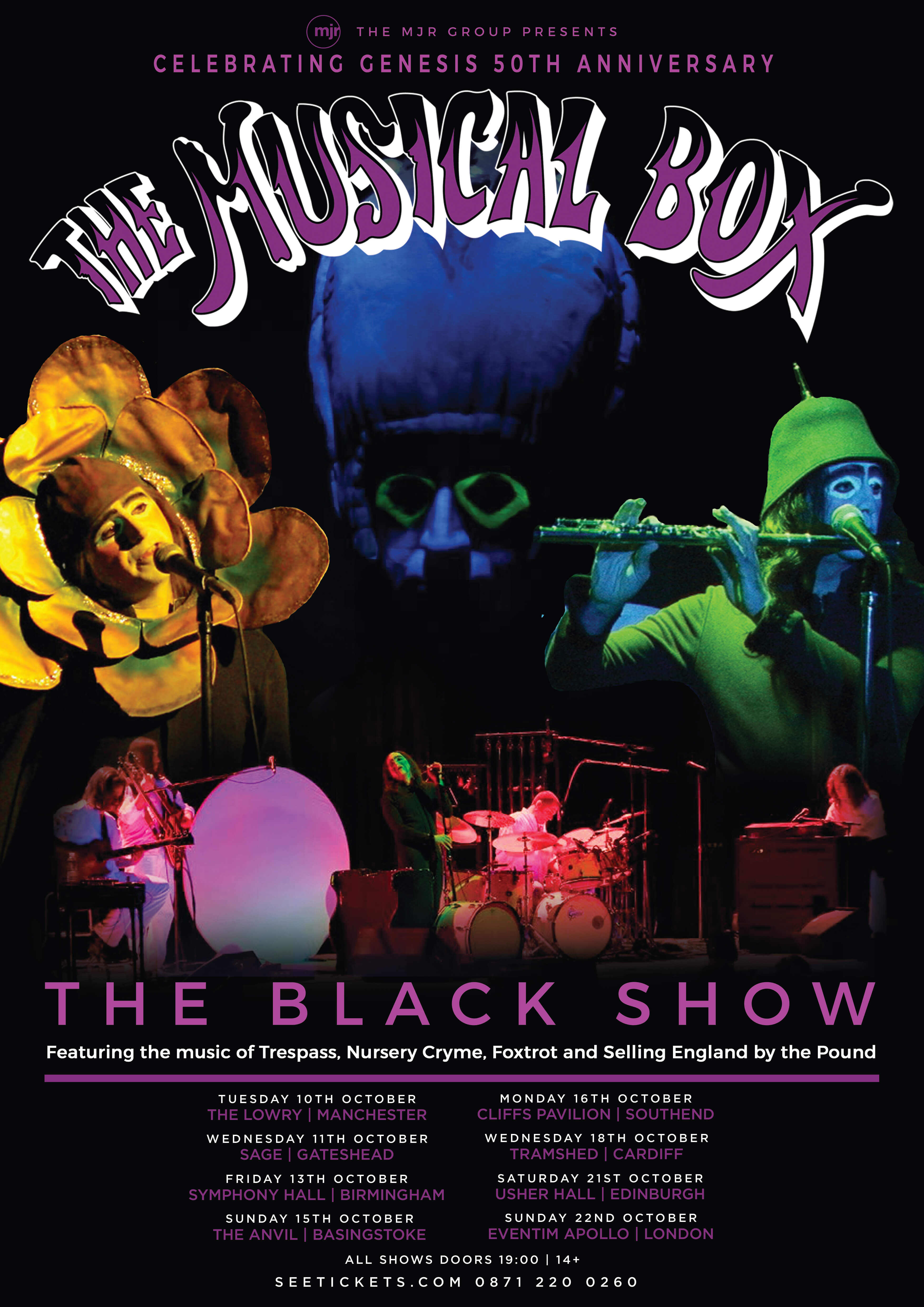 The costumes, neon and giant circular projectors at the back of the stage made for a highly visual show where you gain everything from going to watch it performed. It certainly helped Genesis sell tour tickets and it's plain to see why. Listening back to the tracks now, it's the show I remember as much as the songs.
The music itself was performed expertly. It's so refreshing to see an ensemble perform so confidently with each other, even if it isn't originally their music. The elaborate percussion and additional sounds are key to the progressive rock feel and the kit on the stage was very impressive.
Guitar solos from a double neck guitar and poignant harmonics made many a hair stand up on my arms and the trio of acoustic guitars coupled with beautiful haunting vocal harmonies on tracks like The Cinema Show and The Battle of Epping Forest was a real credit to the musicians.
The show ended with some explosive pyrotechnics and a very sparkly silver suit for Supper's Ready, whose lyrics rang very true to this day about the decline of politicians and British culture. There was an encore featuring a medley from 1974 album The Lamb Lies Down On Broadway ending with rapturous applause and a standing ovation from the clearly devoted and impressed Genesis fans.
I came away smiling as not many people could confidently perform with a giant flower on their head, but honestly this show was great fun and a pleasure to see. Overall this was a triumphant tribute celebrating Genesis' 50th anniversary that commanded the stage with all senses easily proving that tribute acts still have their place in the music industry today.
Reviewer: Jo Flynn
Reviewed: 10th October 2017
North West End Rating: ★★★★