King Pleasure and The Biscuit Boys are a six piece, Rhythm and Blues band who are celebrating thirty years in the business in 2017 with this 150 date tour. They have an impressive CV: they've played in 21 countries, they've opened shows for BB King and Ray Charles, they've produced 11 albums and they've made more than 70 TV appearances...including on The Teletubbies...!
They state that their music comes with a 'cheer up guarantee' and this is certainly true. Within seconds of them coming on stage, my feet were tapping, my head was nodding and I had a beam on my face which lasted all night. Their joy is infectious, their talent is undeniably amazing and they are just fun to watch and listen to.
I know very little about jazz but I found the music very easy to get into and enjoyable.
The band comprises King Pleasure (vocals and baritone sax), Bullmoose K Shirley (guitar), Shark Van Schtoop (bass), Gary 'The Enforcer' Barber (drummer/percussion), Mighty Matt Foundling (piano) and Big John 'Boysey' Battrum (alto and tenor sax). They all wear sharp blue suits...except for Bullmoose K Shirley which was a shame as it detracted from the uniformity of their appearance and I'd have liked them all to be wearing the same.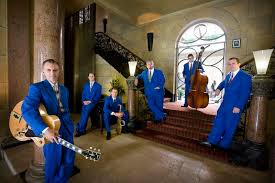 King Pleasure himself is fascinating to watch: he has great presence and charm and such a lovely, happy, expressive face. It is totally impossible not to look at him and smile, he looks like he's having the best time and wants you to enjoy the evening as much as he is.
The three largest characters of the band are King Pleasure, Boysey Battrum and Shark Van Schtoop and they provide moments of comedy with their occasional synchronised steps and facial expressions. Shark, in particular, is a one man comedy show: this is not intended to be offensive to him at all but he put me in mind of a cross between a cute little woodland animal and Eric Morecambe. He is hilarious with his bewildered facial expressions and the way he takes refuge behind the bass (while playing) and then pops up from time to time.
Even if you don't consider yourself to be a fan of rhythm and blues, you will love KPBB because - well, what's not to love? Their joy and sense of fun is totally infectious. They have charisma and the instant likeability factor, combined with sheer talent and a polished yet at ease performance.
Sadly the auditorium at Sale Waterside tonight wasn't full to capacity and I found myself getting a little frustrated with some of the audience who seemed to be determined not to clap or join in...even when King Pleasure left the stage to sit with the audience and sing. I think some of the Fun Police were definitely in the audience tonight!
(I'm sure KPBB won't mind me mentioning the couple who took to the dance floor before anyone else did and stayed on it for most of the first half dancing on their own - I believe this couple may be part of the Artful Voices choir who I saw supporting The Swing Commanders recently. They really brought something extra to the evening with their lovely dancing and I was jealous that I wasn't down there with them!)
If you want an evening of great music with a wonderful atmosphere and possibly the chance to strut your stuff, then you should go and see King Pleasure and the Biscuit Boys. As for the Biscuit - it can only be a chocolate covered, gold foil wrapped one: no plain old digestives here.
Reviewer: Nicky Lambert
Reviewed: 21st July 2017