I'm sure there isn't one married woman alive who hasn't fantasized, at some point, about murdering her husband. So it makes sense that three female friends should plot to kill theirs and run off to America to start a new life.
But, like any great farce, this whole murderous adventure – having started quite alright, goes horribly, and deliciously wrong. Gael van den Bosshce (writer/producer) has created a masterful, witty, fast-paced comedy of errors. Drawing on genre expectations, he cleverly subverts and twists the story into the most up-to-date, bang-on-trend, dark comedy about murder you could possibly hope to see.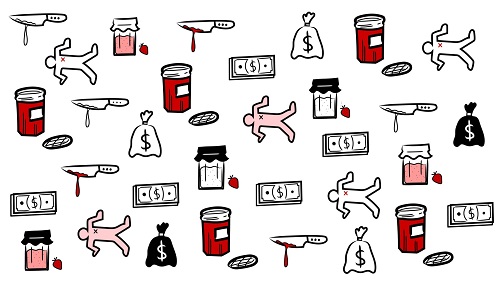 Double-crossing, switched allegiances, screwed up logic and incredulous loyalties are all par for the course in this production and the OTT humour and zany left-fieldness of everything was a joy to behold.
Awkward. My God, the audience were positively squirming in wild excitement and disbelief at the sheer psychopathic-ness of Beth (Charlotte Bloombury), who was matched only with her insaneness by Fred (Alexander Lopez) and Colin (James Cassir). The casting is absolutely fantastic and the bonding between the crew is a lesson in chemistry working to its fullest – and this is a fringe production.
Everything about Jammie Dodger – from the casting to the lighting to the set to the everything – screams longer, bigger run. Truly, this show deserves big success.
Reviewer: Samantha Collett
Reviewed: 13th February 2019
North West End Rating: ★★★★★