This was simply wonderful! Usually, I am familiar with the children's books, but this was the first time I had not read what, apparently, is a series of books (by Kes Gray and Jim Field) that here have been linked together with a dramatic narrative by Emma Searle (direction and script) and Zoe Squire (design and script). After the cast. dressed as teachers have paraded around the audience, asking children their names and helping them find something it will rhyme with, the action proper begins in the Sittingbottom School for Animals, where Cat (Lucy Tuck), the prefect, has decided that all animals must sit on something that rhymes with their name.
This is fine for those animals whose name rhymes with something pleasant – mules sit on stools, hares sit on chairs, and gophers sit on sofas, as the young members of the audience happily shouted back – but not for those whose names have more unfortunate rhymes (lions/irons, storks/forks).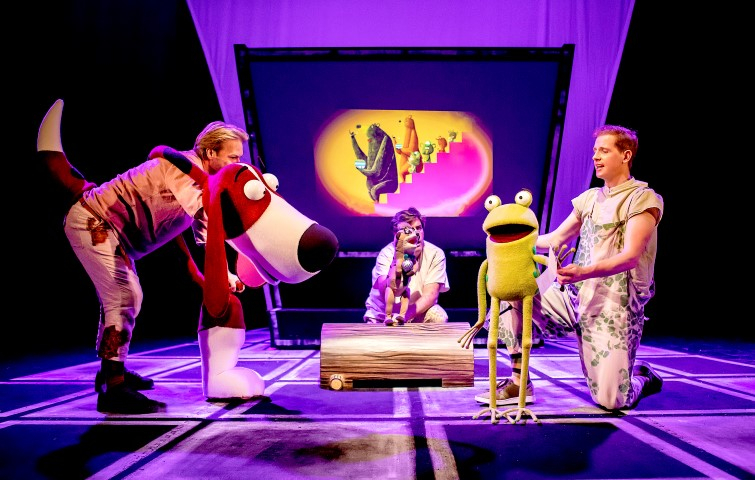 This is the case of new pupil, Frog (Robin Hemmings), who objects to sitting on log, but is even less enchanted to find out what dogs sit on, and indeed, when his new friend, Dog (Darren Seed), sits on him, Frog contracts rhyming fever and begins rhyming non-stop.
From there, the story moves at a rollicking pace, with puppets of various shapes, sizes, and designs, catchy songs (a particular favourite being the Cheetah (Simon Yadoo) and his penchant for fajitas), a meerkat news reporting service, excellent costumes, and some very effective and imaginative use of lighting and props with massive beach balls thrown into the audience.
Aimed at children aged three or over, there are plenty of opportunities for audience participation, which the children took full advantage of, as well as burps (cue delighted laughter from children), use of the word 'bottom' (cue even more delighted laughter), and an elephant that runs amok among the audience squirting water out of its trunk (children's joy now off the scale!)
However, there are also some thoughtful elements – Frog's nervousness at starting school (Will I fit in?), the importance of friendship and of being kind, and even the query about what rules are for and whether poor rules should be blindly followed, irrespective of how useful, or indeed, harmful they might be. And it's highly unlikely that any child will have left the theatre not knowing what a rhyme is ('words with different beginnings that share an ending sound').
Fast paced, witty (with the occasional humour for the adults), this is excellent theatre on every level. Take your children to see it. Take anyone to see it. Just make sure you see it.
Reviewer: Johanna Roberts
Reviewed: 26th February 2020
North West End UK Rating: ★★★★★