Church Blitz is multi award-winning Naughty Corner Productions fourth show, in association with theSpaceUK and Edge Hill University, and, as I'm coming quickly to expect from this skilled group, it doesn't let you down as we are taken through a blackly comic and often strangely surreal experience.
The play opens to the overtures of Patti Smith and as the lights go up, five people are revealed, strangers one and all, having sought sanctuary inside a church from an unknown danger outside. And then they hear the knocks at the door…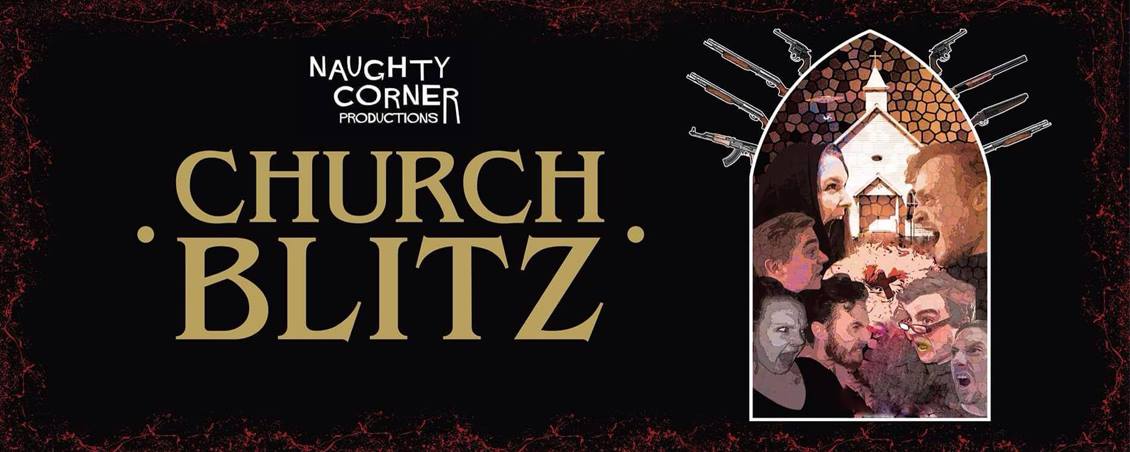 Irish Nun (Sam Walton) is Blue by name and nature; Sarge (Niall Hogan) is military and classified; Clarence (Adam Nicholls) is, like all good poets, full of metaphor; Ida (Megan Bond) brings some feminine common sense, whilst Ray (Warren Kettle) is just, well, Ray. And then Jude (Nick Sheedy) arrives, physically scarred but what about within? A solitary group tip-toe around their own fears and emotions until The Priest (Callum Forbes) appears out of nowhere, somewhere, and who makes our Nun look almost saintly as a game of trust and deceit ensues with regular doses of paranoia added in, just for good measure you know, and it seems clear that nobody is who they seem to be. Or are they? Is the danger without or within? Do you know who you are? The tension builds to the accompaniment of a musical selection that parallels and reflects the action unravelling on stage and nothing – nothing – will ever be the same again…
The cast are well honed and clearly at ease with each in this fun, frantic, and frenetic offering from writer and director Mike Dickinson, their movement and timing synchronising perfectly throughout with the fast-paced dialogue that literally crackles on stage. The set design by Tom Brown reflects a church interior beautifully whilst being cleverly adaptable to capture the confessional, and well executed by the cast. Georgia Tilbury's costumes perfectly signposted each character - as if you could forget. Tom Silverton's effects were the icing on the cake in a production that clearly delighted the almost full-house tonight.
This is a talented group who clearly get each other which means in turn we get top notch theatre. From the writing through to the direction, from the production to the performances, each one excels and as is often the way, the total is better than the sum of its parts. More importantly they're young which in my book means we've got even more to look forward to over the coming years – no pressure!
Naughty Corner Productions is a Liverpool-based Theatre company formed in 2013 by two Edge Hill University Drama graduates, who create a genre busting selection of original theatre productions by collaborating with the best up and coming actors and performers around. Further details can be found at http://naughtycornerproductions.com/
unitytheatre is Liverpool's small-scale theatre with big ambitions to showcase challenging, innovative, risky and unusual work. Further details on this and their work with the local community can be found at www.unitytheatreliverpool.co.uk
This was, sadly, a one-off production but never fear as on Saturday 22nd July Naughty Corner Productions have two productions at unitytheatre with a one-off performance of their fifth production, The British Idles, at 3pm, and the final showing of their second production, Not The Horse (which has been running through the week) at 7.30pm. Tickets for both shows are priced at £12 (£10 concessions) and available via http://www.unitytheatreliverpool.co.uk/whats-on.html or via the Box Office on 0151 709 4988.
Reviewer: Mark Davoren
Reviewed: 21st July 2017
North West End Rating: ★★★★★