Most people will relate The Wedding Singer with the 1988 romantic comedy film starring Adam Sandler and Drew Barrymore, however it is now also recognised as a successful musical which started its journey at the Al Hirschfield Theatre on Broadway in 2006. Much like the film, it tells the story of Robbie Hart, a loveable wedding singer who has his heart broken by his fiancé and the complications that follow once a new romantic interest, Julia, catches his attention.
West End star Jon Robyns and X Factor finalist Cassie Compton's portrayal of Robbie and Julia's budding romance is charming and their chemistry is undeniable. Robyns steals the show, revealing he not only has a stellar voice but also an effortless ability to be infectiously funny. They are joined by a star quality cast which includes royalty such as Ruth Madoc, who plays Robbie's gran, and Liverpool born Ray Quinn who unsurprisingly got rapturous applause from his home crowd due to his portrayal of Glen Gulia, Julia's no-good fiancé. It is no secret that Quinn is multi-talented but his performance in this production is a welcome reminder that he is not only a triple threat but is also certainly leading man material despite his humbler role in this musical.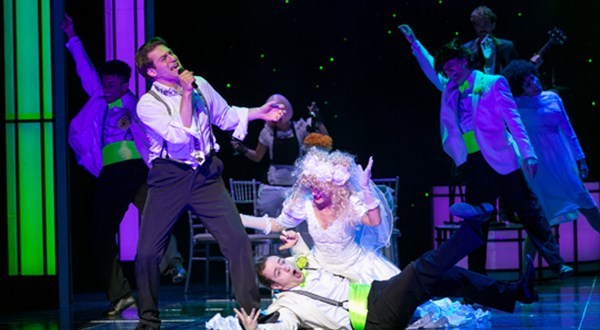 Something I find particularly striking about this production is the attention to detail. There are nods to 80s culture throughout the show and I found the use of 80s movie trailers before the show started appropriate and charming. These details are a good way to establish time and place and with the added flare of retro costumes and live musicians it's very easy to be transported back in time. The music is loud and punchy from start to finish and although most of the music is written originally for the musical production by Matthew Skylar it does include 'Somebody Kill Me' and 'Grow Old With You' which were co-written by Sandler himself for the film and work just as effectively, if not more so, on the stage. Musicals can sometimes be at risk of coming across as forced and awkward however the script had an effortless flow to it which kept it entertaining throughout all musical numbers and scene transitions.
To judge this production purely on its entertainment factor alone, The Wedding Singer certainly delivers. Although it is not a remarkable show by any means it is certainly some of the funniest theatre I have witnessed in a very long time. At a time when there is so much pain and suffering in the world, particularly felt in the North West due to recent tragic events at Ariana Grande's concert in Manchester, it is nice and necessary to lose yourself in some harmless, feel-good theatre and The Wedding Singer does the trick. I would encourage anyone to get down to the Liverpool Empire Theatre this week for guaranteed, feel good fun (however it may not be appropriate for the little ones in the family).
Reviewer: Sarah Goldsmith
Reviewed: 30th May 2017
North West End Rating: ★★★★