Sophie Willan is still relatively new on the block in the world of female comedians. Since her first theatre show in 2014 she has certainly gone from strength to strength and performed in many venues across the UK. This includes the obligatory Edinburgh Fringe which was a sell-out when she took her show 'On Record' there, which was about growing up in and out of the care system. Having seen her tonight I'm not surprised at her success as she is certainly one to watch.
Her current show 'Branded' is based on being labelled and all that this entails. Branding follows her. People have judged her. She has been branded as Northern, being a single woman, being an escort and even being brought up on a council estate in Bolton when Thatcher was in power. The show is about how we can so often get branding wrong. She relayed this through her life story. All this may initially seem very heavy but it wasn't in the slightest, for Willan's real talent tonight was actually creating side-splitting humour related to her extremely challenging and very tragic start in life. Her accurate observation of people are shared with absolute precision to the audience.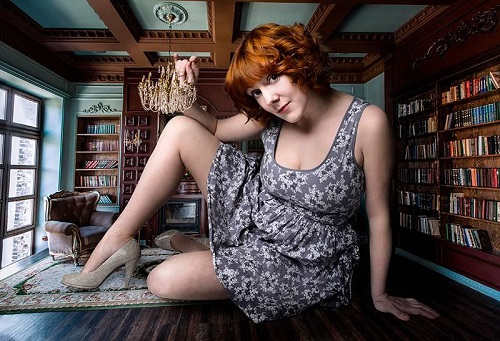 Her moving yet also hilarious stories include having a heroin addict for a mother who developed psychosis and a Granny who, dressed in Zebra print took her to Ibiza as a child as her Granny 'wanted to go to Pasha nightclub'. Willan never asks for pity- she was in fact rather proud of her job as an escort as it paid far better than her job in Subway and she didn't need to scrape food off the floor and wear a t-shirt with a meat ball on it.
Sophie Willan is undoubtedly one talented lady and in my opinion, born to tell funny stories mixed with an element of sitting up and making you think. She is like no other comedian I have seen but if pushed, (and I'm apprehensive about how this would be seen as I certainly don't want to brand her at all!), I think there is a political smattering of Ben Elton, mixed with an honesty of Jo Brand. She is a natural with the audience, frank, articulate and thoroughly entertaining. Her presence on stage is effortless as she is wonderfully engaging and dealt with hecklers by explaining that she is doing the show as she had an ego- the night was meant to be about her, no one else.
Sophie Willan's Branded tour is for those who are not offended by swearing, have a degree of social conscience and are open minded enough to question why we brand people as we do. Willan won't ever ask for pity, she just wants you to laugh at her stories but perhaps take a poignant message home with you too. Can't wait to see what she does next.
Reviewer: Angela Kelly
Reviewed: 31st May 2018
North West End Rating: ★★★★