Friday nights at Manchester's Comedy Store plays host to the Best in Comedy. The venue, situated on Deansgate Locks was purpose built in 2000 and has an auditorium that seats 500 people. Although the venue was not full, there was a certain intimacy in the atmosphere because the upper tier was closed off. Fridays are a popular evening for the venue for all ages so it was very easy to feel relaxed and comfortable.
Compering the evening was the great Jarred Christmas, a comedian from New Zealand originally but is now located in the UK. I have had the privilege of watching him live before and even though I knew the punchline of all of his jokes, I was still laughing hysterically. He delivers them so well and really does come across like it's the first time he's told a joke or anecdote. Jarred Christmas is one of my favourite comedians. He engages so well with the audience and really gets them fired up for the line-up to follow.
First up was Chris Martin, no not that one. Chris is 29 and from London and has a string of TV and radio appearances under his belt. He was very charming and he audience loved him. Much to Martin's surprise who thought he was going to be hated by the Manchester public due to his southern roots. Recently married, most of Chris' set centred on married life and the things that no one ever tells you about. My personal favourite was about hair in the plug hole. Something that my poor husband can definitely relate to. I really liked him and wouldn't mind seeing him live again.
One of the things I love about the Comedy Store, is its commitment to new comedians and giving them a chance to play to a wider audience. The audience were treated to a five minute slot from local comedian Lee Pearce. Pearce is gay and most of his comedy surrounds his sexuality, not in a derogatory way, just very funny, especially when he talked about his friends who are sympathetic towards him because he is single. Another one to watch, I think Lee Pearce will have a good career as a stand-up comic.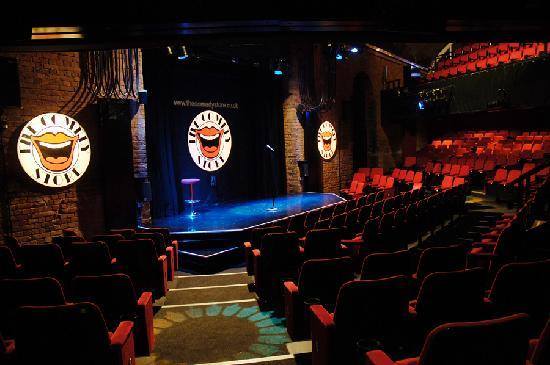 Next up was Pete Johannson a Canadian comedian. He has won numerous awards both in Canada and the UK and has appeared on several TV shows including Russell Howards Good News. He was also a very funny man and his popularity is global. He currently tours the UK, Ireland, United States and Canada and I like that he appeals to, not necessarily different cultures, but definitely to a global audience whose sense of humour differs. A lot of his material included sexual references but not in an offensive way and it was very well received by the audience. He ended the first half of the show and left the audience in excited anticipation for what was to come next.
Jimmy McGhie kicked off the second half of the show. I have never seen him live before but I felt very privileged to have seen him in the Comedy Store in Manchester. Having said that, The Comedy Store is somewhat of a regular venue for Jimmy. McGhie is a very highly respected comedian who tours the UK and international comedy circuits, including places like Malaysia, Singapore and Vietnam. I had a certain soft spot for him and he was my favourite performer of the evening. McGhie is from Tooting Bec in South London and his stories about being a posh boy in a rough London area were hilarious. I think I felt a certain connection to him as my family live in Thornton Heath, not far from Tooting Bec, so I could relate to and understand the culture in which he was referring to.
Stephen Grant was the last comedian of the evening. He has a huge catalogue of successes which include his hosting role at Krater Comedy Club in Brighton which has won him the Chortle Award for best compere. He talked a lot about Brighton being the gay capital of England, leading many of the audience to assume that he was gay. He is not and later treated the audience to anecdotes about his being married twice. Grant has a great energy about him and handled the audience brilliantly. As the night wore on, the audience became rowdier but Grant took it in his stride and made it seem as though some of the unexpected things were part of the set. Although not my personal favourite of the evening, it is easy to see why Grant headlines events.
As a lover of comedy, an evening at the Comedy Store never disappoints me. Tickets are reasonably priced, food is reasonably priced and the staff are friendly and helpful. I'm already looking forward to my next visit
Reviewer: Annellen Fazackerley
Reviewed: 3rd June 2016