I would never have thought in my wildest dreams that I would ever sit through a Baroque Opera, coming away from it pleasantly surprised and finding that I actually quite enjoyed the experience. But that is exactly what I did do last night, when I went to The Ronewald Concert Hall in the Martin Harris Centre at Manchester University to see Manchester University's Music Society present Jean-Philippe Rameau's Opera 'Castor And Pollux'.
I am really no fan of the Baroque period in classical music, and save a few of the more hackneyed and well known ditties from that era, would never actually choose to listen to it. Further, I am no fan of early Grand Opera - my opera interests start with Verdi and Puccini - and so last night took me very much out of my comfort zone. However, I have always said that I will never close my mind to anything since there is always something to learn and take away from everything, and last night was no exception.
Another thing that surprised me last night was the amount of young talent on display. Manchester really is a hot-bed of creative in-training and emerging talent, and this job allows me the privilege of seeing some of this talent develop and blossom as I see productions from students from the various universities as well as Chetham's and the RNCM. The latter two being much more high profile than what is affectionally acronymed MUMS, but after watching last night's opera, I can attest to the fact that the talent and creative pulse is just as great.
The Ronewald Concert Hall is just that, a purpose-built hall for orchestral concerts, and sadly barely suitable for theatrical ones, but maximum use was used of the space by director Emma Doherty. Her direction was solid, safe and unified. The style of the production harping back to the 1930s when what was presented last night would have been thought of as innovative, daring and ultra-modern. Now though, it was an interesting curio, a museum piece almost. To say that this was a minimalist production would be an understatement. No attempt whatsoever was made to create even the illusion of scenery or set, using the bare concert hall walls throughout. This meant that all the upright lighting stands and the floor racks were also visible throughout, as was the video camera on the conductor for the cast playback TV which was also visible at the side of the auditorium.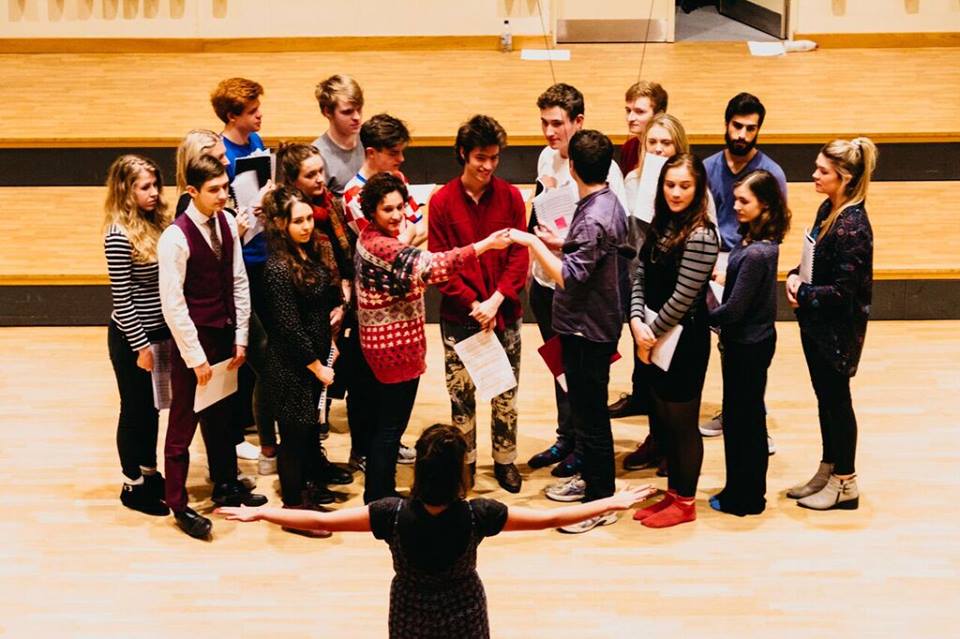 The set was 3 black stage boxes which became seats, stands and a coffin amongst other things. Costumes followed the same minimalist principals and had a certain old-school gymsuit look about them - all the chorus wore black tops with beige three-quarter length trousers and black pumps, whilst the four leading characters wore the same except their trousers were red. Jupiter's, when he appeared were gold. The only costume anomaly which I didn't understand the reasoning for, was that of Mercury, who was part of the chorus and wore the same costume as the chorus. Admittedly she was given a silver crown when she became Mercury. Status was also given through make-up, and the higher the status the more gold face-paint you were given. Pollux and Phoebe therefore had painted gold half-masks, whilst Jupiter was given a full golden face and even wore gold nail varnish!
The additions of flower headbands and half-masks for the chorus further enhanced the style of this production. I loved the idea of the star-lights at the end, but unfortunately the effect fell somewhat flat since there was no LX change. It went straight from full to blackout, and thus lost the effect that could have been created by a simple LX change in between.
I enjoyed very much watching and listening to the chorus. Their singing was excellent, and I loved the physicality and expressiveness of their movements. Again, firmly fixed in the 30s style of 'modern' production, but was extremely well coordinated creating some lovely pictures on stage. The bow and arrows sequence in the first half though remains my favourite.
As for the main cast, then I am unqualified to even try to disseminate their performances. All I can say is that they were all fine singers, and were well chosen for those roles. Sarah Keirle as Mercury hitting some of the highest notes I think I have ever heard sung! And it wasn't screeched or shouted either, it was sung. Impressive! I really enjoyed Castor's (Sam Keeler) naturalness. He, above all others had an air of truth and sincerity about his performance without it becoming 'acting', as opera so often, due to the nature of the genre, does.
There were two things though that truly aggravated me last night. First was the lighting, designed by Lewis Howells. The LX capacity was insufficient for the design and ideas. I could see, or thought I could see what effects were trying to be created, but each time they simply didn't succeed. Faces were unlit, or bodies in shadow with important action sometimes taking place in semi-darkness. The single floor light DSC wasn't angled high enough and there was not a uniformity of cover on the general washes.
The second thing was the use of the door behind the harpsichordist as an entrance and exit for the cast. This just looked clumsy. Either don't use the door or move the harpsichord, simple!
Talking of music, then there was a 16-piece orchestra positioned to the side of the stage, conducted by Musical Director Alex Robinson. There was the occasional wrong note here and there, especially when playing the decorations, but the sound created was as near authentic as possible, and the majority of the playing was very good.
As I mentioned earlier, the creatives responsible were all students; still learning and experimenting; and therefore the odd little mishap can be easily overlooked. It was an extremely good and professional production, and even though it wasn't really my thing, I am still both happy and thankful for having been able to watch it.
Reviewer: Mark Dee
Reviewed: 11th February 2016