The Lantern Theatre is a wonderful fringe space nestled in the ever expanding Baltic Triangle; a creative hub in Liverpool. It is a real shame for Liverpool's theatre scene that this theatre is set to close its doors at the end of this month as its eclectic programme truly had something for everyone.
Mad On Her is billed as an '80s jukebox musical starring a 'star studded West End cast'. The plot could have been lifted from numerous '80s movies or musicals; girl meets boy, boy hurts girl, girl and boy reconcile. This is inevitable from the opening chords so no need for a spoiler alert, although it would have been interesting if Donna had listened to the audience member who encouraged her to "jib him" at a key moment! The audience were engaged from the outset singing along to well-known songs, voicing their displeasure with Ricky (kudos to Matt Blaker for maintaining his composure and blue steel stare as he entered to boos and hisses!), providing guidance (see above) and dancing in the aisles at the end.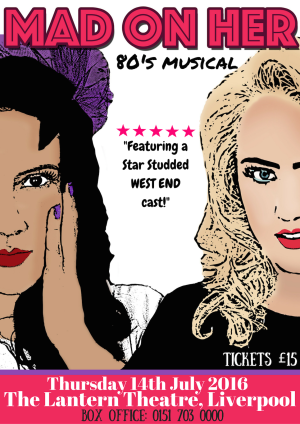 There is no escaping that this is a fun show, full of vibrant colours, energetic choreography and catchy tunes that stick in your head long after you've left the theatre. However, it never quite lives up to the potential of its engaging cast. Jukebox musicals (where pre-existing songs are used) are tricky at the best of times, yet in Mad On Her many of the songs work well in the setting propelling us towards the inevitable happy ending. The issue is the script, which though scarce is littered with clichés. These could be forgiven if there was some plot development, but this is lacking and at the end you are still unclear as to what Donna does, what she is going to do and why she has worn the same outfit for the majority of the show. Laura Wilson provides excellent comic relief in her portrayal of Cindi which is clear and concise while hinting at further depths. Even a brief appearance in the background of a dramatic moment between Donna and Ricky draws your attention – perhaps a musical with her at the heart would be more interesting?
The performance was hindered by the intimate setting, with the eleven strong cast often eliciting gasps as they flung each other round the space missing metal beams by centimetres! In such a small space the decision to use microphones was questionable, and the struggle to get a balanced sound quality was evident. Diction was also an issue highlighting the current debate about contemporary actors' inability to project and enunciate. With some tweaking Mad On Her could live up to its potential. There is no doubt that this is a fun fizz of a musical but with a little more attention to plot and character development and some edits of the '80's tunes to provide more space for script and get rid of some of the unused instrumentals, this could become a really strong show.
Reviewer: Clare Chandler
Reviewed: 14th July 2016
North West End Rating: ★★★