Kicking off an international tour, Edinburgh Fringe smash-hit Medea Electronica brings its unique and primal energy to Pleasance Islington this February. The powerful and deeply moving Greek tragedy is reimagined with a scorching live electronica ensemble and thrown into the turmoil of Thatcher's Britain.
The genre-defying new company, Pecho Mama reinvigorate this intense drama by placing it in the maelstrom of a live synth gig with an all original soundtrack of contemporary Electronica and 80s-inspired Progressive Rock. Medea Electronica tells the story of a family caught in the brutal throes of a marriage unravelling. With the discovery of her husband's deceit and betrayal, Medea is driven to embark on a journey of savage revenge and destruction. This chilling tragedy, told originally by Euripides in 431BC, is best known for its savage act of infanticide by a mother as revenge for her husband's adultery.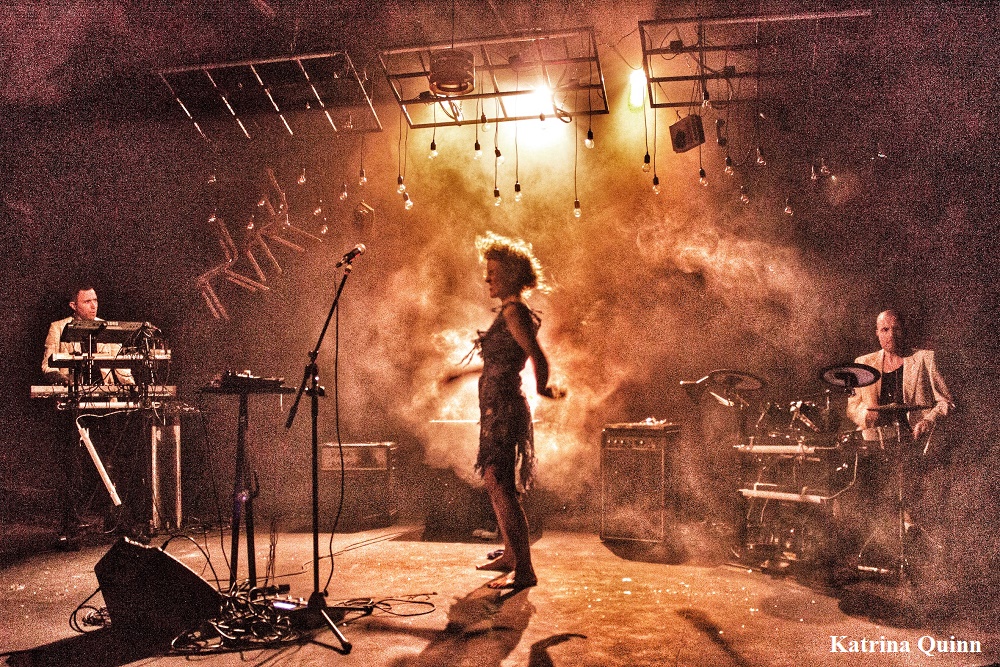 Medea is one of the greatest roles for women - both hero and villain, quivering with rage and passion, unwilling to be cast aside or surrender her agency. Mella Faye, creator and performer, invites the audience to feel the beating heart of a woman who does something unforgivable, to see her humanity as she does something monstrous.
Flipping theatre conventions, Mella interacts with bodiless voices, and sings with a live band on stage. With Alex Stanford (O2, Royal Albert Hall and Hackney Empire) on synths and Soundgarden as well as Sam Cox (O2, Ronnie Scott's and The Cavern Club) on electric drums, Medea Electronica is a visceral experience that thrums through the bones of the audience.
Mella Faye comments, as a company we are constantly seeking to strip away the conventional approach to theatre-making, to find new, progressive and music-driven ways of playing together. The joy in staging this production has been to throw a very mundane world together with a searing prog-rock-electronica gig. The two worlds seem at odds until they bleed into each other as Medea smashes her way out of her domestic cocoon. We invite the audience to be on her side, despite the things she does. To will her on, and to want her to succeed.
To put it simply, Medea Electronica is the kind of show I wish I saw more of. It's expertly crafted, performed to the highest standards, thematically fearless, smart as hell and cool as fuck. I can't recommend it enough. (★★★★★ London City Nights).
Performance Dates
Tuesday 19th – Sunday 24th February 2019, 7.30pm
Location Pleasance Theatre, Carpenters Mews, North Road, London N7 9EF
Box Office Tickets are available from Pleasance Theatre Box Office on 020 7609 1800 or online at https://www.pleasance.co.uk/ Tickets are priced from £13.
How to get there The nearest underground station is Caledonian Road (Piccadilly Line). The nearest train stations are Kings Cross/St Pancras and Caledonian Road & Barnsbury Richmond.
Running time 70 minutes