Having had the pleasure of seeing a trio of their productions last year at unitytheatre – Not The Horse; Church Blitz; The British Idles – I was pleased to meet up with director Mikee Dickinson and actor Nick Sheedy at the Arts Centre on the main campus of Edge Hill University.
As I question what upcoming production Bob the Russian is about – other than the obvious – Dickinson is keen to explain that whilst he was watching the Euros in 2016, and the running battles between English and Russian fans, the idea came to him fully formed: the potential for similar mayhem in 2018 at the World Cup finals – scheduled to be held in Russia – serving as cover for some collusion and the heist of the century. Whilst the format will inevitably draw comparison to Not The Horse, Dickinson is keen to note that whilst that focused on exposing stereotypes and our reactions to them, Bob the Russian is designed to have a more serious message with moral undertones: I can't wait!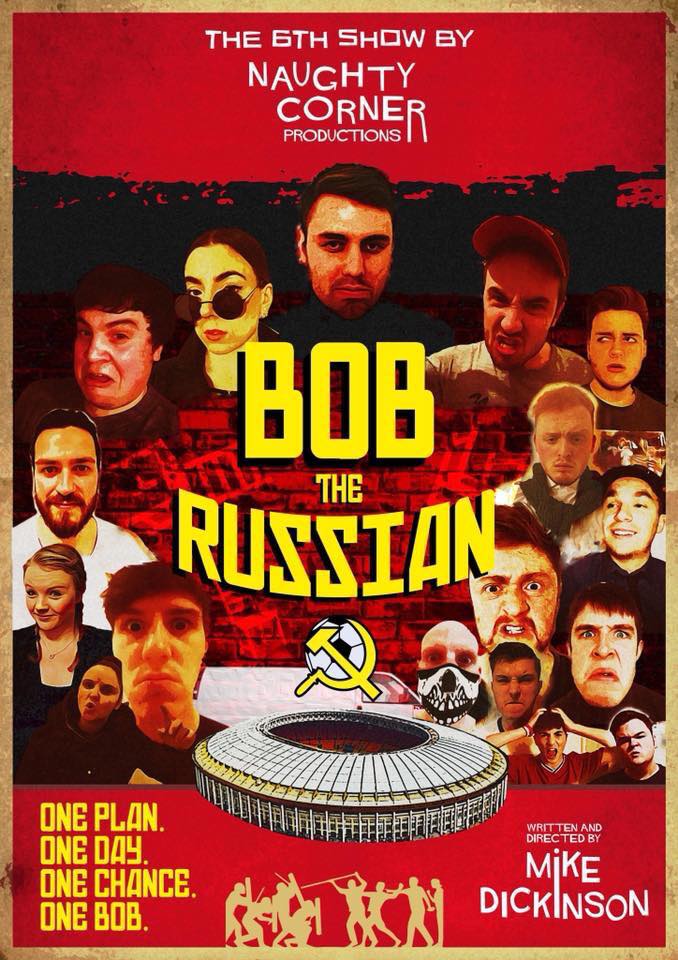 This will be Naughty Corner Productions sixth outing, so I am keen to know where and how this mix of local talent came about when it transpires that we're sat right on it at Edge Hill University: Dickinson graduated in 2013 with his dissertation piece 'The Bastard Queen!' highly praised and he was strongly advised by staff to take it to Edinburgh Fringe. Despite the frustration and challenge of putting it on in 100+ seater venues with only a few people turning up, one evening a journalist took in the show and before they knew it they had the accolade of a Sunday Times National Drama Award.
They have been keen to repay the faith shown in them by Edge Hill University by taking up residency there and working collaboratively with them: Bob the Russian has seven main roles but a further supporting cast of ten will be drawn from current acting students, and they have also been able to draw upon technical support for the set design and construction. In a further gesture of giving something back, they have also agreed to take a best Masters or Dissertation piece each year and produce it as part of their ongoing arrangement with Unity Theatre.
Dickinson and Sheedy are keen to note that a related production – The Muckers by Callum Forbes and Adam Nicholls –will be appearing as a matinee performance at unitytheatre during their main run and which explores the often-contrary behaviours of middle-class folk in post-Brexit England.
They are also both involved in the upcoming production of 'Those Two Weeks' by Ian Salmon – a Liverpool-based family drama - with Dickinson directing and Sheedy taking on a main role. Having worked so closely together through Naughty Corner Productions, this has provided them with a new set of challenges, but ones which can only further develop their professional growth.
For two talented individuals their aspirations remain quite humble as Sheedy notes: to simply make a living from doing something they truly love and with Naughty Corner Productions providing a stage for them to perform on. Somehow, I have a feeling that it won't be too long before we see this cream rising well and truly to the top.
Bob the Russian will preview at Edge Hill University Arts Centre in April (date TBC) followed by:
Footlights Media City, Manchester (27th April)
The Unity Theatre, Liverpool (28th – 30th June)
Edinburgh Fringe (August)
Further venues to be advised from September onwards.
The Muckers will be a matinee performance at Unity Theatre on 30th June.
Further details can be found at http://naughtycornerproductions.com/
Those Two Weeks performs at unitytheatre 28th February – 3rd March 2018, performances start at 8pm. Further details https://www.unitytheatreliverpool.co.uk/whats-on/those-two-weeks.html