Mark Davoren is our senior reviewer here at North West End and co-ordinates alot of our Liverpool review requests. Here are his top three shows of 2017. Clicking on the title of the show will take you to Mark's review of each production.
Roger McGough + Brian Patten with LiTTLe MACHiNe at Liverpool Playhouse on 28th January

Roger McGough and Brian Patten are two of the original Liverpool Poets from the 1960's whose work, alongside the sadly departed Adrian Henri, was captured in The Mersey Sound, one of the best-selling poetry books of all time with 2017 being the fiftieth anniversary of its original publication. Poetry is best heard and there is no better venue than the Liverpool Playhouse, well-versed in its own history, for this raw and energetic work to further delight again with some musical embellishment by LiTTLe MACHiNe adding a modern twist.
Ellen Kent's La Bohème at Liverpool Empire on 24th March
Ellen Kent's touring opera productions always enthral, and she is always the consummate host. Of her three productions I saw this year – the other two were Aida and Nabucco – Puccini's La Bohème stands out for the richness of its storyline and musical accompaniment. Soprano Alyona Kistenyova's voice is pure poetry and entrances throughout. This is one of the most performed operas worldwide and inspired a more modern musical interpretation in Rent.
Northern Broadside's For Love Or Money at Liverpool Playhouse on 21st November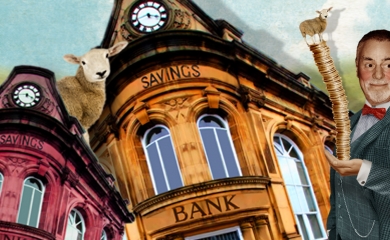 Northern Broadsides celebrated their 25th anniversary this year in conjunction with Hull -where it all started for them - celebrating its status as European Capital of Culture. Under the artistic direction of Barrie Rutter, they have spent the last quarter of a century turning European classics into Yorkshire yarns and giving regional theatregoers the opportunity to hear their own accents on stage. Sadly, this is Rutter's last performance as he rails at the idiosyncratic bias of Arts Council funding and as this play itself goes to show: you just can't trust anyone any more.