Frankenstein is a monster that has always fascinated theatre and film makers so it's no surprise that Bite My Thumb and Foot of the Barrel are taking their version on the road.
Even Academy Award winner Danny Boyle has had a go at the classic text and his massive production starred Benedict Cumberbatch so not surprisingly was a smash hit at the National Theatre, "Cumberbatch begged and begged to reprise his role and perform with us, but we turned him down," jokes director Shane Gough, "We're too good for him."
Nick Dear's take is based on Mary Shelley's gothic novel featuring a Creature childlike in his innocence, but grotesque in form, Frankenstein's bewildered creation is cast out into a hostile universe by his horror-struck maker meeting with cruelty wherever he goes, The friendless Creature, increasingly desperate and vengeful, determines to track down his creator and strike a terrifying deal.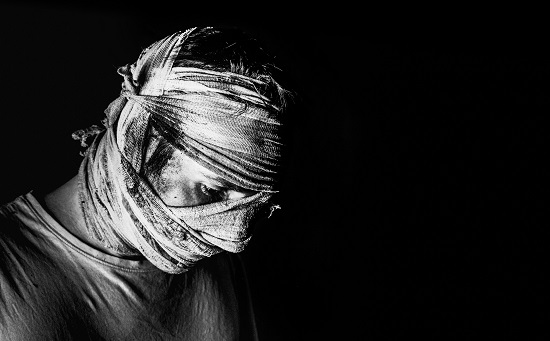 "It's rare a play as outstanding as this comes along", said director Shane Gough. "It's a thrilling, visceral show that challenges the audience's perception of the original novel's characters. We really start to feel for Frankenstein's Monster.
"We laugh as he takes his first tentative steps into humanity, sympathise with his pain as he meets rejection and look on in horror when we realise what he is capable of."
Bite My Thumb and Foot of the Barrel Perhaps have also created a slick one off promo film made by Altruism Pictures.
The film is prequel to the play follows a group of German soldiers towards the end of WWII fleeing from an unknown terror as bombs fall around them, and even has CGI fighter planes. One cast member who doesn't appear is a disgruntled Neil Knipe, who plays Frankenstein's Monster in the show.
"I was gutted to not be in the feature but this is a prequel after all, so I haven't been created yet," says Neil. Knipe, "A lot of people might think that's the monster at the end … but it isn't".
2017 Tour Dates
5th & 6th May
Brighouse Civic
0333 8000 030
www.footofthebarrel.co.uk
1st June
Wakefield Theatre Royal
01924 211 311
www.theatreroyalwakefield.co.uk

9th June
The Lamproom Barnsley
01226 200075
www.barnsleylamproom.com
16th & 17th June
Halifax Playhouse
01422 365998
www.halifaxplayhouse.org.uk