There is something very special happening at The Forum Theatre between 27th – 30th April and it has completely changed my longstanding opinion of this musical.
Jesus Christ Superstar was the first Andrew Lloyd Webber/Tim Rice musical to be produced for the professional stage. It actually began as a rock opera concept album but made its stage debut on Broadway in 1971, coming to London in 1972 and by the end of 1980, it had become the longest running musical in West End history. This is quite a lot for any theatre company staging this show to live up to but tonight, NK Theatre Arts completely blew the audience away with their absolutely amazing version of this long-established musical.
The show is set in the last seven days of Jesus Christ's life. Webber and Rice filled it with anachronisms and contemporary references and attitudes but most productions set it in biblical times anyway. The NKTA version is set in contemporary times and I have to say this made it for me. I have only seen this show once before – a professional version about fifteen years ago. It left me disappointed and bored and I have never wanted to see it again since. So I was a tough crowd for tonight...but NKTA have left me almost speechless with amazement. It had so much impact. In fact, you could say it was a revelation. (That's my one and only biblical pun, honestly).
The tone of excellence is set right at the beginning with the ensemble dressed in black 'hoodies' running around in a menacing way, interacting with the audience (quite intimidating!). There are several Police with batons and shields. The lighting is moody, the atmosphere is dark and tense and it sent shivers down my spine – I was hooked right from the start. The feeling of menace and threat was palpable.
Chris Grixti as Judas is perhaps one of the best actors I have ever seen. I cannot praise him highly enough. He completely grasped this role and was totally believable and compelling. He has an outstanding voice and his ability to express emotion is magnificent. His torment from his betrayal of Jesus was almost painful to watch because it was so real - he really plumbed the depths of despair. He is a powerhouse of talent.
Jesus was played by Dominic Stannage (also the Musical Director). Another very impressive actor who really gave his all and left me feeling emotionally drained. He is fantastic right from the start (although I can't say the same about the wig...) but he really comes into his own at the end as we head towards the crucifixion scene. During "Gethsemane", he demonstrated gut wrenching anguish, alternating quickly with anger and fear. Simply amazing and very professionally done.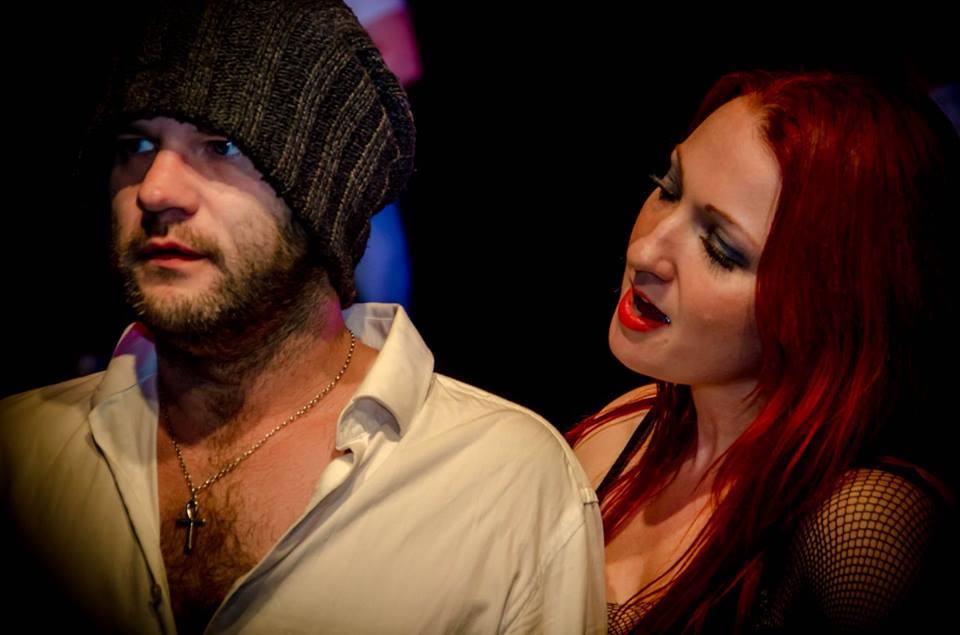 I loved the way that the politicians were so instantly recognisable as 'baddies' and Nikkie Simms as Annas was particularly terrifying! Such a powerful voice, she really packed a punch – and then some.
One of the high points of the night was Mary (Emma Jane Ramsden) singing "I don't know how to love him". Words cannot do her justice. She sang this song in a way I've never heard it sung before, it was completely heartfelt, emotional and agonised. She totally made it her own. Just when you think she's given it her all, she gives a little bit more. She sings the first verse unaccompanied and it is completely haunting. She also moves to the front of the stage so she is only a few feet from the audience...this leaves her very exposed but she can certainly handle it. I congratulate her.
One scene I particularly liked was "Herod's Song". This was done very artistically with echoes of Chicago's "Cell Block Tango" and Cabaret's "Mein Herr", with some classic Fosse choreography thrown in. I loved it.
The crucifixion is staged excellently and whilst the cross (very imaginatively constructed) is being prepared, I almost felt nervous; there was real tension in the air. Dominic Stannage's acting in the final few moments of this scene is exceptional and very moving indeed. Mary can be heard crying throughout the death scene and when he does die, her terribly grief-stricken cries are really quite distressing. When Jesus is lifted down from the cross, he is carried off stage and up the stairs through the audience. This made it feel so real and I thought it was a very brave thing to do as it can't have been easy but it really worked.
"Jesus Christ Superstar" is sung after the curtain call has been taken and this is a great way of doing it as it gives a much needed lift after the emotional scene just witnessed. How the cast found the energy they did is unbelievable and the show ended on a real high after this.
Special mention has to be given to the ensemble – their acting ability and energy almost left me exhausted. I made a point of watching each and every one of them over the whole evening and they acted consistently the whole time. Not to mention their seemingly boundless energy during the choreography – I think they must have been drinking coffee and Red Bull all day...! They almost acted as one, the various crowd scenes were very well executed and the mob mentality was portrayed perfectly. They also provided an eerie and sinister backdrop to many scenes, particularly towards the end. Well done every single one of you, you made this show totally spectacular.
The band were excellent – my one criticism is the sound level, however. Many of the singers were drowned out by the volume of the music and this was a real shame. The way they played the music was extremely professional and I felt like I was listening to the soundtrack album because it was so good but it really needs notching down a little to allow the marvellous singers to be heard in all their glory.
Just one more niggle – there appeared to be some problems with some of the microphones as there was quite a lot of crackling at various points and it did tend to slightly spoil the wonderful atmosphere that the cast had created. I'm sure this can be ironed out for the rest of the run.
The staging was done very imaginatively. Scaffolding surrounded three sides of the stage and was used effectively and creatively. I particularly liked the use of two television screens suspended above the stage which reflected the scenes that we were witnessing. Another contemporary touch which worked so well.
The directors (Kerry Day and Dominic Stannage) and the choreographer (Dawn Wrigley) deserve a huge amount of recognition and acclaim for the outstanding job they have done. I have seen professional shows which don't come anywhere near this one.
To sum up: this show is exciting, disturbing, compelling and absolutely phenomenal. I don't believe a better cast could have been chosen for it.
There is more than one Superstar in this five star production. Not to see it would be a sin.
Reviewed: 27th April 2016
Reviewed: Nicky Lambert