The Centenary Theatre Company hosted another fantastic show at the stunning Brindley Theatre in Runcorn.
White Christmas stage show is based on the paramount picture film and consists of all the qualities a festive tale requires with oodles of joy and goodwill.
The original film aired in 1954 an American romantic comedy with stared Hollywood actors and actresses such as Bing Crosby, Danny Kaye, Rosemary Clooney and Vera-Ellen.
The classic tale is of two army soldier Captain Bob Wallace played by Joe Clarke and Private Phil Davis played by Jake Hankey under the direction of General Thomas Waverly played by Ivor Farley from the 151st Division enjoy their time singing and entertaining the troops during Christmas Eve 1944 and after the war is over go on to make it big in nightclubs, radio, and then on Broadway, eventually becoming successful producers.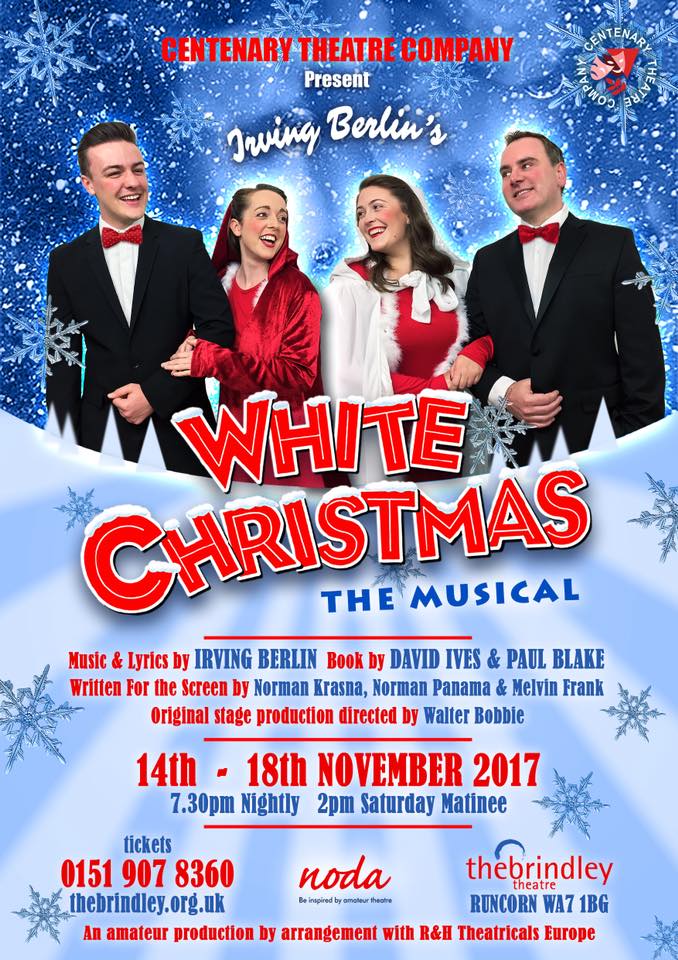 The two companions go on to meet a duo act Betty Haynes played by Hannah Young and Judy Haynes played by Joanne Novoa Bradley who display themselves as sisters for the act and throughout the performance their romances take enchanting twists and turns leaving the audience with a lovely warm glow of feeling good.
The fantastic Music and Lyrics by Irving Berlin had this talented theatre company singing huge infamous ballads such as 'Happy Holiday', White Christmas', Sisters', 'Count your blessings instead of sheep' and 'Blue Skies'.
This extremely strong talented cast held their notes perfectly and delivered on every level possible, the show is a visual and auditory delight of stunning scenery, fantastic vocals, authentic costumes, and brilliant lighting all credit to the production team. The most stunning element of this production was the Choreography huge credit to Ceris Shadwell for making this production what it is an outstanding masterpiece of dance and interpretation, I was absolutely captivated by the perfection of the ballroom scene where Joanne (Judy) and Joe (Phil) dance to 'The best things happen when you're dancing' and the faultless tap dance routine in the opening scene of act two 'I love a Piano' no show can ever be as magnificent without a supporting cast and dancers - it was very clear that each member of the crew have worked extremely hard to perfect the scenes and dance routines a charming and competent bunch of individuals.
Stand out performers for me were Hannah Young who captivated the audience with her elegant grace and dependable vocals and Julia Hart who played Martha Watson this lady reminded me very much of Ria Jones who is currently Norma Desmond in Sunset Boulevard Julia had the pizazz and stage presence of any leading lady, I particularly was blown away by her interpretation and delivery of 'Let me sing and I'm happy' where we saw her talents at its most exquisite.
Major credit to Nick Cupit the director for delivering such a great festive show having worked for many years with CODYS and Encore Productions he has joined the Centenary Theatre Company's cast and Production Team as well as The Brindley staff to finalise all of the elements of this polished show.
I love a great finale and it has to be said that this one is spot on and will not disappoint anyone where you witness the show closing to 'White Christmas' snow falls plentifully, definitely putting you in the mood for Christmas.
This show is highly recommended for all ages not just for adults as I took my two co reviewers aged nine and twelve years old who have never heard the songs or seen the film before but were thoroughly captivated from the start to the finale and both commented on how the dancers were in perfect time and in their words "it's like watching strictly come dancing but even BETTER" high praise for my two regular theatre goers with massive thumbs up from them.
White Christmas is a spectacle of a show with fantastic musical numbers, which will not disappoint.
Reviewer: Katie Leicester
Reviewed: 14th November 2017