An Engaging, Powerful and Moving Production
In the aesthetically delightful lobby of St George's Hall, audience members glanced at their watches and began to finish their pre-show drinks when suddenly the air was pierced with the wailings of Henrietta Iscariot (Jenni Cartwright) as she bemoaned the demise of her son, all alone, whilst recalling her own loving memories of him to provide an alternate context to that most of us would consider when we think of Judas. As she parted we were shown to our seats in the refurbished 19th century criminal courtroom, the perfect venue for this story by Pulitzer-prize winning playwright Stephen Adly Guirgis of a re-imagined trial in a corner of Purgatory called Hope and which Director Sam Donovan has kept faithful to in its resemblance to a mean New York neighbourhood.
The play is in parts equally hilarious, poignant and thought-provoking as it asks one of the most enduring questions in Christian theology: what happened to Judas Iscariot? We know him as the man responsible for Jesus' demise, who subsequently hanged himself in despair and has suffered ever since in Hell. But are these 'facts' consistent? Was Judas really at fault or was he merely a pawn in a bigger game? We, as the audience, are also sat in Purgatory as various people are brought forth from Heaven, Hell and Purgatory to reassess what we really know about this character, his guilt and how perhaps we too play out our own thirty pieces of silver moments in our own lives as we discover Biblical inconsistencies and are forced to question those who we once venerated in an environment that is as much classroom as it is courtroom.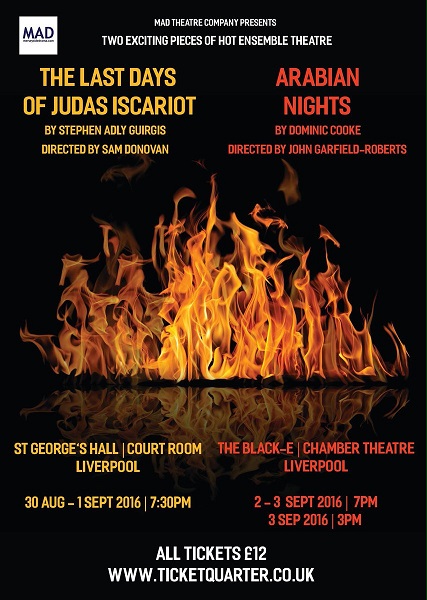 Angel Gloria (Melissa McLeod) sets the scene before presiding Judge Littlefield (David Birrell), who incidentally we learn hanged himself during the Civil War, assisted by a Bailiff, Julia (Chrissie Burns), finally allows agnostic defence lawyer Fabiana Aziza Cunningham (Alice Hansen)and prosecuting attorney, El Fayoumy (Snehansh Chaudhary) to commence proceedings - only of course once Saint Monica (Stephanie Berube) has made a proper assessment of Judas (Josh Lascelle) and convinced God to counter-sign the writ!
There follows a cast of historical characters called to account and decipher both for and against the accused and more importantly to challenge our preconceptions, represented and reinforced by Loretta (Melissa Vondy), as we sit as members of the jury with our foreman Butch Honeywell (Chris Clements) alongside us. We again meet Judas' mother followed by Mother Theresa (Vicky McNab), Satan (Toby Everett), Sigmund Freud (Brian McMinn), Caiaphas the Elder (Roy Donovan) and Pontius Pilate (David Loy). Scattered throughout are 'I remember Judas' monologues from Saint Peter (Alex Robson), Saint Matthew (Tom Crilly), Simon the Zealot (Stephen Leahey), Mary Magdalene (Vicky McNab) and Saint Thomas (Rob Keyes) which successfully break up the monotony of a courtroom and add a more personal touch to proceedings. Jesus (Jamie Owen) finally appears to reinforce the Christian message of forgiveness although Judas may still not be ready to forgive himself. Butch re-appears as our foreman to confirm the verdict before opening himself up to share his 'thirty pieces' moment which provides real food for thought.
The performances are true New-Yorker, especially Berube's Monica, but perhaps studded with too many obscenities than are entirely necessary, more akin to Last Exit to Brooklyn than Dogma. Theological arguments are accompanied by some good black humour but which too often veers towards the puerile. There are perhaps too many historical characters and repetition of points which makes this play overlong as it approaches three hours (although as one character notes, 'this is Purgatory, I got all day') but these are observations on the play rather than M.A.D Theatre Company's production which is faithful to the original whilst some more recent topical references and the multimedia flashback worked particularly well.
There were strong performances from all of the cast that helped to successfully overcome the challenges of language and length: Cartwright's pre-show prologue had me hooked and Lascelle's various turns throughout as Judas were strong and reflected a full gamut of emotions. I enjoyed Birrell's laconic judge as well as the courtroom exchanges between the competing lawyers with Chaudhary playing to full comic effect and Hansen capturing the brooding intensity of her character. Everett's Satan was sharp and quick and ever so dangerous as a consequence. Honeywell's closing piece, whilst somewhat removed in the context of the overall play, was realistic and delivered with great emotion. Director Sam Donovan has much to be proud of.
As always it is great to see St George's Hall being brought back to life and therefore all the more unfortunate that there were some sound issues which I have written on previously. I believe an enhanced sound system is a must and perhaps some acoustic baffles/drapes to better control the sound reverberation in the room to allow the actors to perform to their best and the audience to enjoy it fully. Other than that, a perfect and accessible venue and worthwhile checking out for a visit http://liverpoolcityhalls.co.uk/st-georges-hall.
M.A.D. also have a production of Arabian Nights performing at The Black-E on Friday 2nd September at 7pm and Saturday 3rd September at 3pm and 7pm. Tickets are available via https://www.ticketquarter.co.uk/Online/arabian-nights
Further information on M.A.D Theatre Company may be found at http://merseysidedrama.com/
Reviewer: Mark Davoren
Reviewed: 31st August 2016
North West End Rating: ★★★★