I thought I had seen it all until I watched a musical about a piano (pronounced pi-ahhh-no) that makes people dance, then goes missing and needs the help of a flying saucer to locate it. Who would have thought over 60 years later it would still be being performed?
So, it made me wonder is the plot intentionally bizarre to make the musical score stand out? Or were times just more simple back then that people found a piano highly amusing?
The story focuses on Jane and Tim, who are recently graduated and married. One day a tramp offers to pay them to look after his piano, soon they learn it has magical powers. With the police trying to track the piano down, it goes missing. But will they find it?
Originally performed in the 1950s, Salad Days is a portrait of upper-class London living. Perhaps the all-white cast was homage to that? However, even back then it was only a select few who experienced true wealth, so I guess this makes the story even more appealing.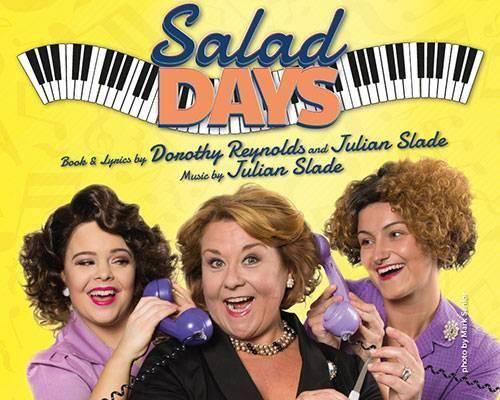 Times were clearly more innocent back then as the piano was often referred to as "the one that makes you gay". Which is quite ironic given how camp the musical is in places.
In fact, there are many places in the show that could be played for laughs, but the cast played it straight - leaving it up to the audience to decide whether to laugh. I enjoyed this as there's nothing I dislike more than being compelled to laugh at something because someone has told you to, or the actors reminding you of how terrible the story is.
The singing in the musical in top notch, and it was nice to hear a range of voices and harmonies on stage. I'd love to give individual praise here however the program I was given went missing during the interval!
With plenty of colour to show that this story is set in the summer, I really enjoyed the lighting changes and the extra colours that were added towards the end. The set is pretty basic, the lighting does all the talking.
Anyone who loves a bit of Strictly will have recognised the choreography on display. There were elements of Waltz, Foxtrot, Jive and even the swivel of the Charleston to be seen.
No one could deny the score in Salad Days is instantly catchy. Anyone who sees it will have 'Oh Look At Me I'm Dancing' stuck in their head coming out of the theatre.
Playing until 29th September https://www.thelowry.com/events/salad-days
Reviewer: Brian Madden
Reviewed: 26th September 2018
North West End Rating: ★★★★