'The Wrong Crowd' theatre company stopped off at the Unity Theatre along their 2016 UK tour of their new show, which premiered as a part of the 'London International Mime Festival 2016'. The hour-long show, inspired by 'The Snowman' and 'The Red Balloon' is a play without words, all done in mime. It is about a girl who has lost her mother and is taken to live in her grandma's flat, where she is taken on a journey led by a kite, which seems to have some kind of life force, trying to help her accept the loss.
I was completely stunned by the timing of the piece; it fit so well with the composed music by Isobel Waller-Bridge. It was beautiful music, which fit so well with the tone of the piece, it is such an important aspect of the performance as it is mime. I loved how everything was in time. The visual effects were amazing that went with the music. The set was brilliantly utilized; I particularly enjoyed the use of the large frame with chairs in it, being used as a train. It was so effective with the sound effects and the movements. Eddie Kay, the movement director (also known for directing the movement in Frantic Assembly's Othello) really made this piece amazing. He is very talented and brilliant how he has put this movement together.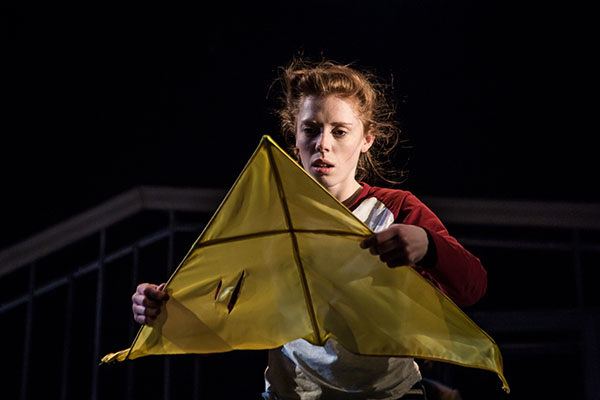 I am unsure as to whether a part of it went wrong with the kite, it seemed to break but it was covered up really well, so much so that it made me question whether it was a mistake or a part of it.
The puppetry was lovely, I loved how some ornaments seemed to look like buildings when the puppets came out, whether this was intentional or not. The puppets looked exactly like actors Charlotte Croft and Liz Crowther it was amazing.
All of the actors performed incredibly well, I really enjoyed the effect of the wind and how actors Nicola Blackwell and Linden Wallcot-Burton portrayed the wind. The way they watched a surveyed every scene, everything was so believable. Words were not needed to understand what was going on.
I think the performance was visually stunning, a beautiful heartfelt story of loss and acceptance. I will keep a lookout for more productions by 'The Wrong Crowd' in the future, and suggest you do the same.
Reviewed on: 15th March 2016
Reviewed by: Sam Pears